Truck Tarp Manufacturer Since 1993
Product Detail
Product Tags
Dandelion can manufacture and supply wholesale vinyl truck tarps in multiple color selections. Some popular sizes of lumber tarps, including 16'x27' with 4ft drop, 20'x27' with 6ft drop, 24'x27' with 8ft drop, etc., together with a variety of raindrops to complete the truck tarp's design. Truck tarps are aimed to protect the truckload last for years.
These durable truck tarps are highly recommended for the flatbed trucking industry, like lumber tarps, steel tarps, coil tarps, and machine tarps. They are 100% waterproof, mildewproof, and UV resistant. They provide great versatility to protect safe transport.
Do you wish for a trusty manufacturer? Here in Dandelion, we can surely meet your custom production requirements. We have a team of experts that can assist and collaborate with you on the truck tarp. Do not hesitate to contact us.
Finished Size

20' x 15' with flap, 20' x 17' with flap, 20' x 20' with flap, 24' x 22' with flap, 24' x 25' with flap, 24' x 27' with flap, Others

Material

Vinyl Membrane Structure Fabric

Vinyl Coated Polyester Fabric

Fabric Weight

15oz - 18oz Per Square Yard

Thickness

16-36 Mils

Color

Black, Blue, Red, Others

General Tolerances

+2 inches for finished sizes

Finishes

Waterproof

Blackout

Dustproof

Tear Resistant

Abrasion Resistant

Flame Retardant

UV-Resistant

Mildew-Resistant

Grommets

Brass / Aluminum / Stainless Steel

Dee-Ring

Stainless Steel

Techniques

Double Stitched Seams with 2 inches width Reinforced Webbing Straps for Perimeter

Certification

RoHS, REACH

Warranty

3-5 Years
Your Trustworthy Partner
Dandelion has worked as a truck tarp manufacturer and supplier in China for nearly three decades. With our years of experience in the industry, we can guarantee a 3-year warranty for tarp products. Aside from manufacturing truck tarps in our tarp factory, we also offer our customers customized specifications and design services. 
Customization Size Options
We have an extensive product catalog of high-quality truck tarp options for you to consider investing in. We, however, also understand that our client's needs will differ. This is why we offer customization options to ensure that we cater to the specific needs of our clients. If you have a particular design in mind but have no idea if it is achievable, well, don't worry. We are here to ensure that we offer the best solutions.
Different Color Selections
We understand that different clients come with varied expectations and needs that you want. Dandelion provides various colors such as black, red, blue, etc. With our professional color inspection, you are bound to find colors that will resonate with your brand. 
Popular Material 
Dandelion truck tarps are made from waterproof and UV-resistant tarp materials—popular fabric like heavy-duty 18oz Vinyl, light-duty 14oz Vinyl, and 10oz Vinyl. We also recommend a new PVC grid ripstop style and Airbag / Parachute material, superior tear strength but much lighter weight than standard Vinyl.
Various Accessories
Dandelion truck tarps have three or four rows of stainless steel, or Nickle coated D rings at 24 inches, 30 inches to suit different cargo securement uses. They will help your customers to close-fit the truckload during transportation.
Durable Perimeter
Truck tarps feature hemmed edges with 2" reinforcement webbing sewn in, double-stitched for extra strength, and brass grommets clinched every 24"—lock stitched-sewn with two rows of UV-treated polyester bond thread.
Print Your Logo
As an experienced field tarp manufacturer, we can cater to your requirement for advertisement. Custom logo design and size are available to your field tarp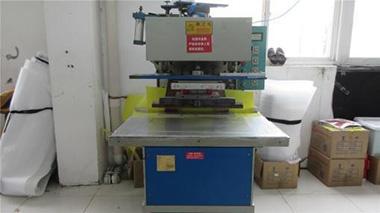 High Frequency Welding Machine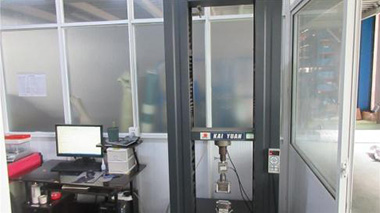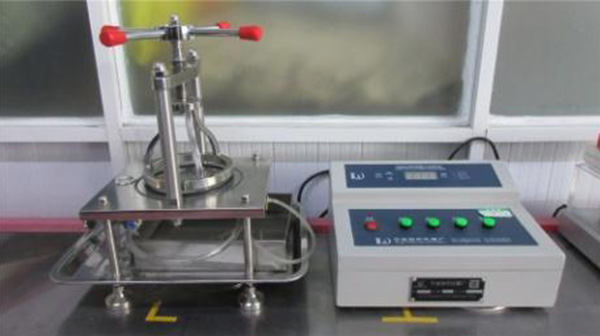 Water Repellent Testing Machine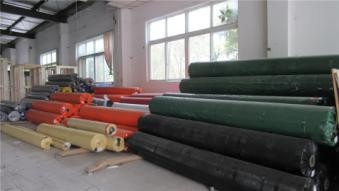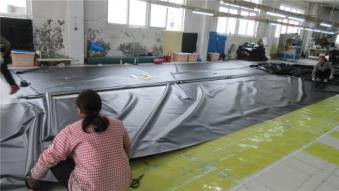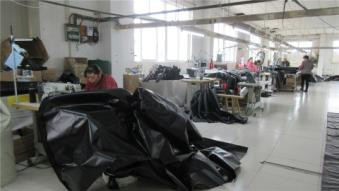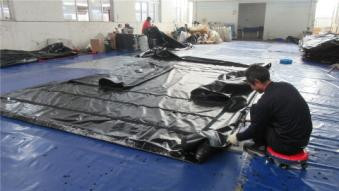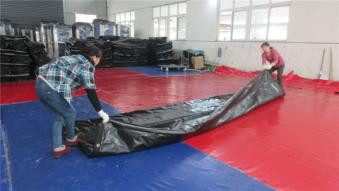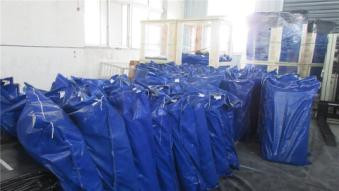 Expertise Market Research
Customer-Based Requirements
RoHS-Certified Raw Material
SOP-Based Quality Control
---
---